******************************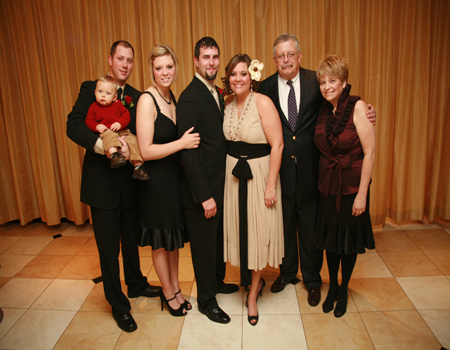 NANCY (HJORT) MENDENHALL & HER FAMILY

From Right To Left: Nancy And Husband Mike, Daughter Amy Jo And Husband Jason,
Daughter Katy And Husband Brian And Grandson Michael!



This picture was taken at our oldest daughter's wedding in Savannah, Georgia in December of 2007.

The company I work for, Spirit Aero Systems, Inc., has grown immensely and I am extremely busy and doing a lot of international work. I am running for a national office with the National Association of Legal Assistants and am going back to school for my Masters. My husband Mike is still traveling for work but hopes to retire again from Spirit (he retired from Boeing 3 years ago). Our daughter Amy Jo and her husband moved back to Derby from Florida to settle down and are in the process of buying a house. She is in legal as I am and has a good job at a law firm in Wichita and her husband is out here with Mike and I building airplanes. Our youngest daughter, Katy and her husband, Brian are in Manhattan, KS as he is the Naval Recruiter up there and she works for United Missouri Bank.